The Hair Styler

Try on Updo Hair Styles

There are many different options for updo hair styles. There is the smooth updo, curly updo, smooth partial updo, all down formal and much more.

Here are some styles that I tried on in the formal section. Some of the styles have a 3D view so that you can see what the sides and back will look like.

If you are not very skilled with doing your hair, you may want to take a copy of the updo hair style to your stylist for a practice run. Practice runs can be done several weeks before your special occasion so that you can make sure that the hair style you have selected will look good with your dress and accessories.
This side curly updo will look great for any formal occasion such as the prom or a wedding. There is some extra height in the crown area and it looks like a style that would look really good with some highlights/lowlights added.
This partial updo hair style would probably be fairly easy to create without professional help. Most of the hair in the crown area is pulled back into a low ponytail. Height is added in the crown area by back combing or teasing the hair and smoothing over the top of it with your fingers.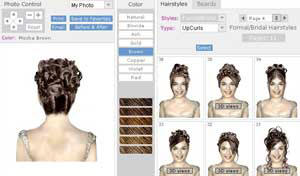 This curly updo can be seen from all different angles. See back and front views above. This style looks a little bit too complicated for my skills. To create this style, I would probably need some professional help.