The Hair Styler

Try on Celebrity Hair Styles

This is a very fun part of the website. If you have been thinking about getting a certain hair style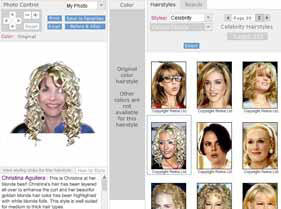 worn by a celebrity, here is your chance to try it on for yourself, before the scissors even touch your hair.
Here are some celebrity styles that I tried on. Christina Aquilera looks great with her long curly blonde hair style. I, however, do not look good with her hairstyle.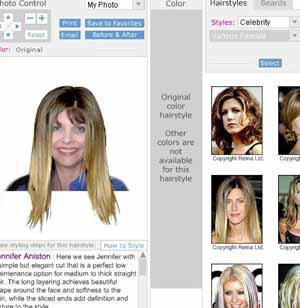 Jennifer Anniston has trademark long golden locks that suit her face shape and skin coloring. I do not think that I would look so great with blonde hair. Plus, I can only imagine the damage that bleaching would do to my already over-processed hair.
Mandy Moore looks great with this medium length all over layered hair style. I think the hair style looks just okay on me. But, I know from experience that all those layers require lots of time and effort to get them to lay just right. I'm not up for that daily hair battle. Maybe if Mandy Moore's hair stylist came to do my hair every day....