The Hair Styler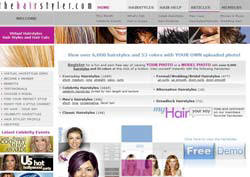 The Hair Styler is an online hair style imaging program that allows you to try on hair styles on a model or on your actual photo. There are many different categories for hair styles. Try on everyday hair style, formal hair styles, classic, celebrity and more.
You can sign up for the program online and be trying on new styles in minutes. For each hair style that you try on, there are detailed instructions on how to style the hair and what type of hair (i.e. thick, thin, etc.) would work best for that style.
If you find a hair style that you really like, you can print it, Email it and/or save it to your favorites. What more could your hair stylist need than an actual picture of you with the hair style you want.
Follow our live demonstration to see how easy and fun it is to find a new style.