The Hair Styler

Try on Long Hair Styles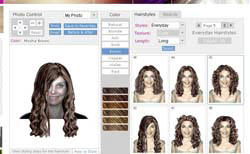 My favorite hair style is the long length. I have always liked the look of long hair. Here are a few long hair styles that I tried on.

The last example shows a hair color change to black. I'm not really sure that I like the black color. The hair certainly looks smooth and healthy in the demo though.
The first long hair style is curly. I would definitely need the help of a hot appliance, such as the curling iron, to create this style.
Some people are able to use the flat iron to create all over curls. Of course this will require some serious practice to master the proper technique.

I like the way that this long hair style has the side-swept look. I really like the way this looks. It is not a full bang, so it gives you a completely different look.
The long layering on the ends would require some extra work though. I'm not sure I like the way the ends are so thin.
My hair is extra thick, so thinning it out is important, but that thin--I'm not so sure.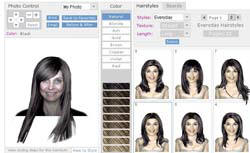 I really like the smooth and silky look to this hair style. Again, it features the side swept bangs with a deep side part.
To get this sort of length I would need hair extensions since my hair is just past my shoulders. The black hair color may work for me if I get a little bit of color on my face. Right now, my face is so white that I may look a bit ghostly or goth if I had black hair.