The Hair Style Editor Try It On Demonstration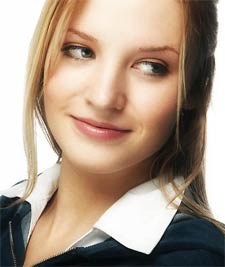 Now I'm off to the Hair Style Editor where I can upload my photo and try some different looks on. I click on the navigation tab that says Hair Editor Login. I enter my user name and password again to gain access to this area of the site. I see that the next step is to upload my photo. I select browse, find my photo and press upload. As you can see, my hair style is very plain, simple and quite boring.
My photo is now in the system and I must select a face shape that is closest to framing my face. I can easily adjust the shape by using the up and down, left and right arrows and actually dragging the shape into the proper position. See below.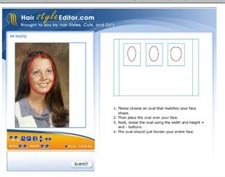 Upload your photo and select a face shape
When I finished, I just pressed the Submit button. Then I was directed back to a page that showed my face with the face shape wiping out my hair in the photo. See below.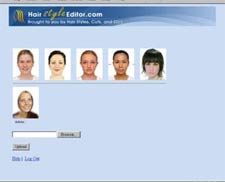 Photo is uploaded, Click on photo to try styles on
To enter the Hair Editor, you just double click on your photo and you are directed to the hair editor section of the website. Here you can just play around with different hair styles, lengths and different hair colors. All photos can be saved so that you can view them later.
See Portfolio of Hair Styles Susan Tried On.